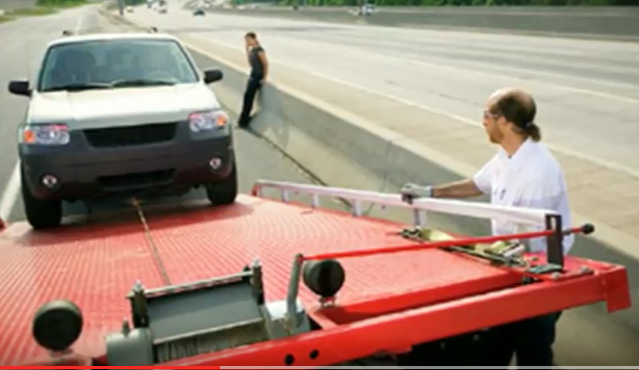 Picture this: You're cruising down Exposition Boulevard (already we're dreaming, because this road is always jammed) without a care in the world. The AC is running full blast. Your gas tank is full. Don't Worry, Be Happy is on the radio. Things are groovy, man.
And then your car's motor starts to knock. And then a burst of steam explodes from under the hood. The motor dies. And with it, any hope you had of this being a good day.
Don't despair. Because with one call to Carmichael Towing Company, your day will be right back on track. We're the finest towing service in Carmichael, CA. We're fast. We're friendly. And we won't leave you stranded by the side of the road.
Give us a call at 916-579-7549 to learn more about Carmichael towing services.
We'll Get Your Vehicle To A Trusted Mechanic
Now you might be stuck on Exposition Boulevard for a few minutes. But with Carmichael Towing Company on the case, you won't be there for long. We'll get to you fast and tow your vehicle to the mechanic of your choice, or, if you don't know a good mechanic, we have a few trusted sources of our own. Your car, truck, or motorcycle is in good hands when you call Carmichael Towing Company.
Reach Us From Anywhere In Sacramento County
Carmichael Towing Company is based in Carmichael, CA, but we serve all of Sacramento County. No matter where you are in the county, give us a call, and we'll be there to help. This would include Sacramento, Rancho Cordova, Orangevale, and pretty much everywhere else.
We know the roads around here like nobody's business. And when you call us, we'll make it our business to get to your vehicle ASAP. You may not hear the John Williams score to Superman as we arrive but you'll be rescued all the same. No amount of Kryptonite–nor traffic on Exposition Boulevard–is going to prevent that.
Do You Tow Electric Cars?
We do! Carmichael Towing Company is happy to tow your electric car. We know they're the future. And we want to help get you back on the road as soon as possible so you can continue doing your part to save the planet.
Rest assured your vehicle will not be damaged or bullied about in any way. We'll load onto the wrecker and get it to a certified mechanic before you can say Elon Musk.
We Do More Than Cars, Trucks, and Motorcycles
Carmichael Towing Company is more than just a towing service. We also do battery jumps, winch-outs, and fuel delivery. So if you're stuck on the side of the road and your battery is dead, or you're in a ditch and need to be pulled out, we can help with that too.
No matter what your vehicular trouble is, our courteous and efficient staff will get right to work "un-troubling" it. Even on a busy road, we'll be there to help straighten out your day.
Story Time
One unfortunate fellow had tire trouble on the median strip. The rear wheel on his motorcycle blew out, leaving him stranded. He found a spare at a shop down the road but had no way to get the blown-out tire off. And traffic was roaring by on both sides, with nary a break in sight.
What did he do? He called Carmichael Towing Company and within minutes we arrived on the scene. Our helpful driver got the bike onto a flatbed and towed him to the shop, where the tire was then changed out.
In another case, a young woman jumped into her car after a long day at work. She turned the key–and nothing happened. Her battery was dead. But she worked at a complex with strict rules about when you could park in the lot. If her car was there too long, it would be towed.
She called Carmichael Towing Company and we delivered a new battery to her promptly. We even installed it for her. The car fired right up and away she went.
These are just two examples of the friendly service we provide. Near or far, big or small, the trouble you're having is no match for the experts at Carmichael Towing Company.
Some Preventive Maintenance Tips
Now if you'd rather avoid roadside headaches altogether, we can help with that, too. Here are some tips to keep your vehicle running smooth:
Check your tire tread and pressure regularly. This will help prevent a blowout like the one in our story.
If your car has been sitting for a while, start it up and let it run for a bit. This will give the oil pump time to lubricate the cylinders, and keep the battery from dying on you.
If you're going on a long road trip, get your car serviced before you go. Let them change the oil and the coolant. This will help avoid problems down the road–literally.
These are just a few things you can do to keep your vehicle happy and healthy. But even if you slip with some of these tips, we'll still be there for you when you need us. So call Carmichael Towing Company the next time you're in a jam.
Call Now
Don't wait until you're stranded by the side of the road to call Carmichael Towing Company. We're also available for pre-scheduled tows, so call us now to schedule a time that's convenient for you.
Carmichael Towing Company is the only towing service you'll ever need. We're here to help, 24 hours a day, 7 days a week. So don't hesitate to call us the next time you find yourself in a jam.
We're always available at 916-579-7549.