Carmichael Motorcycle Towing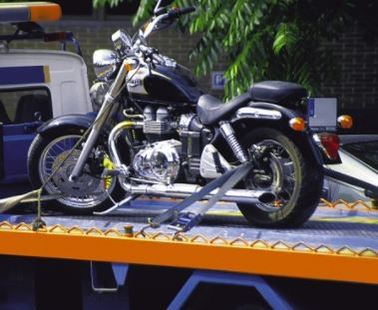 Motorcycling–now here is a past-time we can get behind. Cruising the roads of Sacramento County on a great big hog can be just the ticket on a Sunday afternoon, or during a long vacation.
But if your bike should ever break down, what then? Who do you call for dependable motorcycle towing all over Carmichael, California? Hint: It ain't Ghostbusters.
Carmichael Towing Company tows motorcycles as well as it does cars and trucks. Contact us whenever the need arises.
Dial 916-579-7549 to get free quotes.
Any Sized Bike For Any Sized Problem
The great thing about Carmichael Towing Company is that we will tow any size bike, no matter what the problem may be. Whether you have a brand new Harley Davidson that just won't start, or an old Suzuki that's been sitting in your garage for years, we will come and get it and take it wherever you need it to go.
We are also available 24 hours a day, 7 days a week, so you never have to worry about being stranded on the side of the road in the middle of the night.
Just give us a call and we'll be there to help.
How Do You Tow A Motorcycle?
Believe it or not, there is a right and a wrong way to tow a motorcycle. The last thing you want is your bike getting damaged by a towing company that's not experienced with these sorts of things.
We can't just hook the bike's front wheel up to a wrecker and call it a day. Instead, we'll strap it onto one of our flatbeds or use a towing cradle (we like flatbeds better in this case).
If you're not certain how to safely tow your motorcycle, just leave it to the professionals at Carmichael Towing Company. We have the experience and the expertise to get your motorcycle towed quickly, safely, and without any damage.
We also have a variety of tow trucks to choose from, so we can always find the right one for the job, no matter what size bike you have.
Engine Trouble, Dead Battery, Low Fuel
A lot of things can necessitate a motorcycle tow. That's okay with us, because our team has all the needed accessories for any kind of trouble.
If you've run out of gas, we can bring you some. If your battery is dead, we can jump-start it. And if your engine is giving you trouble, we'll take it to a mechanic for you.
There's no need to worry about anything when Carmichael Towing Company is on the job. We're here to help, no matter what the problem may be.
The bottom line is this: when it comes to motorcycle towing in Carmichael, CA, there is only one company to call–Carmichael Towing Company. So don't wait until you're stranded on the side of the road to call us. We're here to help, 24 hours a day, 7 days a week.
Whenever you need a motorcycle tow service, put our team at the top of the list. We're always ready to help at 916-579-7549.